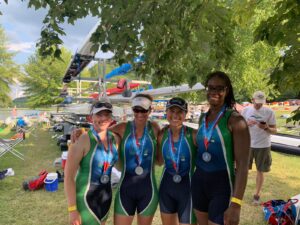 Dr. Personick & teammates
From August 12-15th, Prof. Personick competed at the USRowing Masters National Championships on Melton Lake in Oak Ridge, Tennessee. The weather was hot, but the water was flat and cold—perfect for racing and keeping cool. Her team, Riverfront Recapture, won medals in 46 events – 24 gold, 11 silver and 11 bronze – a team record. After a fog delay each morning, Prof. Personick raced to win one silver medal (women's open B four with coxswain*) and three bronze medals (women's club A four with coxswain, mixed AA four with coxswain, and mixed B eight). She also finished fourth in the women's open A four with coxswain and fifth in the women's open A single sculls.
All of these finishes contributed points to Riverfront's success in the team points competitions. The team won the men's points trophy and finished second for club points, third for overall points (out of 112 teams), and second for the efficiency competition (points per athlete). Overall, it was a great success, and the team is now looking forward to the fall racing season!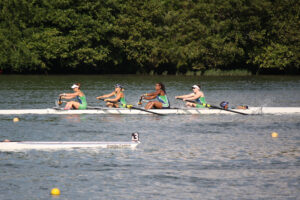 Dr. Personick & teammates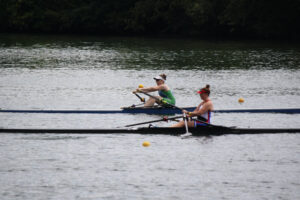 Dr. Personick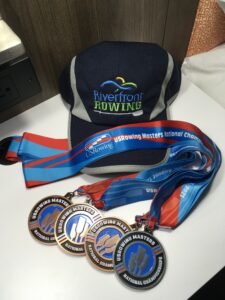 Medals & Hat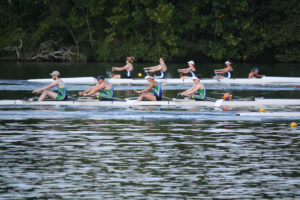 Dr. Personick's team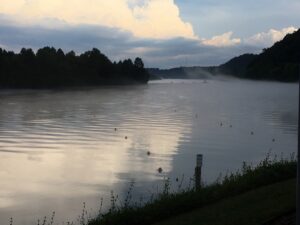 Melton Lake in Oak Ridge, Tennessee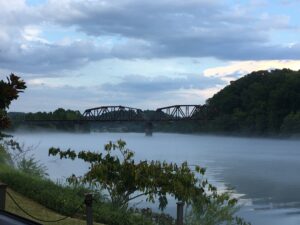 Melton Lake in Oak Ridge, Tennessee
Results: https://herenow.com/results/#/races
Pictures: https://www.row2k.com/gallery/index.cfm?year=2021&category=Masters%20Nationals
* Letters indicate the average age of the crew: AA = 21-26, A = 27-35, B = 36-42