On a recent Saturday, the Free Radicals and chemistry graduate students traveled to Lyman Orchards for an afternoon of apple picking–a first-time adventure for several of the students. After filling their stomachs and bags with apples, Professor Andrea Roberts and the students had a tasty lunch and shopped for delicious cider, cider donuts, and Lyman cheese spread.
According to former Free Radicals officer and MA candidate Giselle Reyes '19, "It was nice to be able to spend some time with my fellow radicals outside of Hall-Atwater and fill my belly with tasty apples, donuts, and cider from Lyman Orchards. I discovered my new favorite apple (The Jonamac!) and strengthened friendships along the way." Truly an unforgettable day for the chemistry majors, students de-stressed and bonded, simply enjoying each other's company and the beautiful autumn scenery.
-submitted by Theo Prachyathipsakul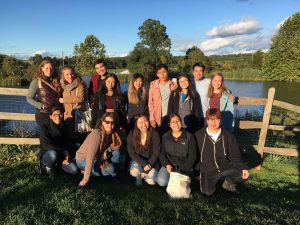 (From left to right, top to bottom): Dr. Susanna Stephens (Postdoctoral Research Associate in Novick lab), Yoana Throssell (Graduate Student in Calter Lab), David Cabanero '19, Giselle Reyes BA/MA in Fry Lab '19, May Do '20, Tenzin Ngodup '20, Shelly Duong '19, Chien Ho '19, Alison Biester '19, Andrea Lee (Graduate Student in Westmoreland Lab), Professor Andrea Roberts, Sojeong Park BA/MA in Smith Lab '19, Jing Jing Wang '20, and Theo Prachyathipsakul '19.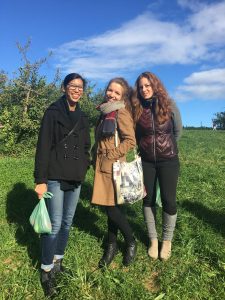 Graduate students Andrea Lee (TDW lab) and Yoana Throssell (MAC lab) with Dr. Su Stephens enjoying the sun on this chilly day.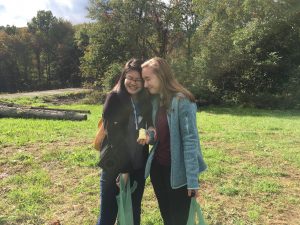 Shelly Duong '19 and Alison Biester '19 covalently bonding.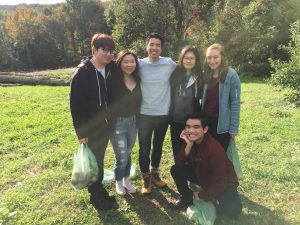 A certain study group usually found lurking the depths of Hall-Atwater finally seeing sunlight.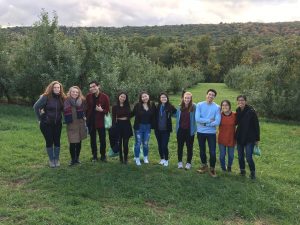 One of the special aspects of being a chemistry major is the friendships formed between graduate students and undergraduates during their time at Wesleyan.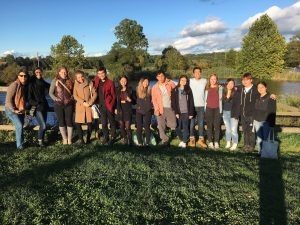 Some of the Free Radicals with Professor Roberts in front of the Apple Barrel.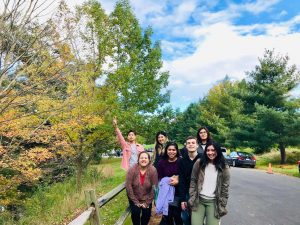 (From left to right, top to bottom): Tenzin Ngodup '20, May Do '20, Vanessa Ramirez '19, Hayley Lipson '20, Jaquelin Aroujo '19, Liam Isaacs '20, and Jana O'Donnell '19.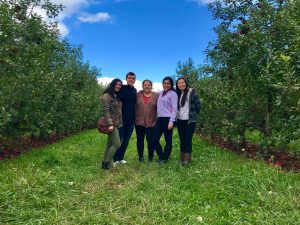 (From left to right): Jana O'Donnell '19, Liam Isaacs '20, Hayley Lipson '20, Jaquelin Aroujo '19, and Chloe Qiu '19 posing in front of some apple trees.