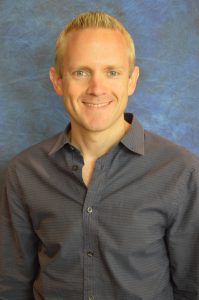 The Chemistry Department welcomes Professor Colin Smith to the faculty where he also holds an affiliated appointment in the Molecular Biophysics Program.  He earned his BA from New York University and a PhD from the University of California San Francisco, where his research focused on protein design and developing new methods for computationally modeling protein flexibility. Prior to coming to Wesleyan, he was a postdoctoral scholar at the Max Plank Institute for Biophysical Chemistry in Göttingen. There he studied protein motion at the atomic level and its implications for how biological activity is regulated.
At Wesleyan Prof. Smith will continue his work in protein dynamics, with a focus on determining the atomic-level mechanisms of how changes in regions far from the active site propagate through proteins and ultimately affect their functions.  For example, some remote mutations can cause proteins to malfunction and lead to disease. In other cases, protein engineering has discovered unusually located mutations that enhance activity, making new synthetic and therapeutic applications possible. Work by Prof. Smith and others has identified an increasing number of cases where this communication happens not through a change in the structure, but in the extent of protein motion.
Prof. Smith and his students will take a distinctly multidisciplinary approach, including computational simulation and modeling, in addition to high-resolution biophysical techniques like nuclear magnetic resonance (NMR), to determine both structure and dynamics at the atomic level.  His group's goal is to understand better how protein activity is remotely controlled by nature and ultimately enable its rational manipulation for therapeutic or synthetic applications.
Prof. Smith's recent and near future course offerings include Practical NMR (CHEM 382), Physical Chemistry for the Life Sciences (CHEM 381), and Molecular Modeling and Design (CHEM 396).