On May 4th, the Chemistry Majors' group, the Free Radicals, held the annual Fire and Ice Event on the patio of the Exley Science Center. Students performed a number of chemical demonstrations and entertained fellow students, faculty, and staff with lighthearted one-liners.  Among the experiments performed, students blew up several balloons with various gas concentrations, created a flaming tornado inside two shields, burned a quantity of magnesium inside a solid block of dry ice, ignited thermite within a clay pot, and blew up guncotton (nitrocellulose).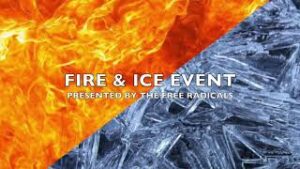 Student demonstrations were performed by: Emily Aoki, Gianna Argento, California Clark, Oliver Cho, Bryan Guarin, Sterre Hesseling, Dylan Judd, and Kyle Sylvester.
Click here for a short video from the event.