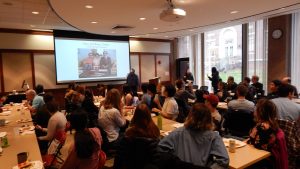 The 2019 Tishler Chemistry Pizza Party & Awards Ceremony was held on May 1 this year. Department Chair Westmoreland noted the following milestones and accomplishments for the department:
– The Department published 23 papers (with 37 different Wesleyan authors).
– Eight graduating seniors will receive Honors or High Honors for their senior theses.
– Six majors were elected to Phi Beta Kappa this year.
– Six M.A. students and two Ph.D. students have completed their degrees this year.
The 2019 Chemistry Department Awards were announced. Congratulations to all our award recipients!
ACS Analytical Award: Leticia Costa
Awarded for excellence in analytical chemistry
ACS Award in Inorganic Chemistry: Grace Chen
To recognize achievement in inorganic chemistry and to encourage further study in the field
ACS Award in Organic Chemistry: David Cabanero
To a student who has displayed a significant aptitude for organic chemistry
ACS Award in Physical Chemistry: Matt Erodici
To recognize achievement in physical chemistry and to encourage further study in the field
ACS Connecticut Valley Section Award: Jaquelin Aroujo
For outstanding achievement by a graduating chemistry major
American Institute for Chemists Award: Eija Kent
For outstanding achievement by a graduating chemistry major
Bradley Prize: David Cabanero and Theo Prachyathipsakul
To the senior or junior who excels in chemistry and particularly in special original work
Silverman Prize: Alison Biester
Awarded to a member of the junior or senior class for excellence in chemistry
CRC Award (General Chemistry): Megan Tran
For the outstanding first-year student in Principles of Chemistry
CRC Award (Organic Chemistry): Sally Tepper
For the outstanding first-year student in Organic Chemistry
Hawk Prize: Frank Tucci and Victoria Yu
To the students who have done the most effective work in biochemistry
Martius Yellow Award: Allie Goss and Rochelle Spencer
Awarded for excellence in Integrated Chemistry Laboratory
The Wallace C. Pringle Prize for Research in Chemistry: Alison Biester
Awarded to a student for excellence in research.
Peterson Fellowship: Cody Hecht
For graduate study in biochemistry
Tishler Prize: Vasileios Drogkaris
Awarded to the best graduate teaching assistant in chemistry