Seven of our undergraduate majors presented their research work at the American Chemical Society Connecticut Valley Section Undergraduate Research Symposium held Apr 27 in the new science center at Amherst College. At the symposium Jacquelin Aroujo was presented with Wesleyan's Connecticut Valley Section Award, given for outstanding achievement by a graduating chemistry major. In addition, David Cabanero received one of two prizes for the Best Poster Presentations. The students enjoyed sharing their work and hearing about what their peers at other schools are doing.
Talks:
Grace Chen ('20): A 1H Relaxometric Approach to Understanding the Solution Speciation of Mn(II) Complexes in the Context of MRI Contrast Agents
Eija Kent ('19): Synthesis of Gold Alloyed Nanoparticles
Jessica Garcia ('19): Synthesis of Pyridine-Based Ligands for Use in MRI Contrast Agent Design
Posters:
Abrar Habib ('21): Synthesis of Bimetallic Palladium-Copper (Pd-Cu) & Silver-Platinum (Ag-Pt) Nanoparticles
David Cabanero ('19): Investigating the Mechanism to Enantioselective Induction of the "Interrupted" Feist-Bénary Reaction
Jaquelin Aroujo ('19): An Enantioselective Synthesis of Rocaglamide via an "Interrupted" Feist-Bénary Reaction
Theo Prachyathipsakul ('19): Synthesis and Study of a Water-Soluble Macrocycle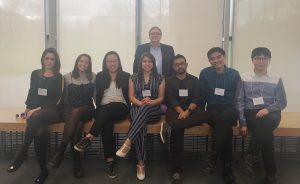 Participants in the ACS-CVS Undergraduate Research Symposium. Seated (left to right): Jessica Garcia, Eija Kent, Grace Chen, Jaquelin Aroujo, Abrar Habib, David Cabanero, and Theo Prachyathipsakul. Standing: Professor Westmoreland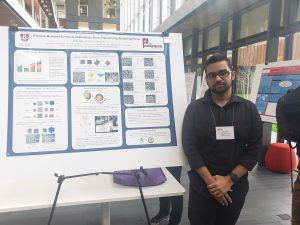 Abrar Habib with his poster waiting the start of the session.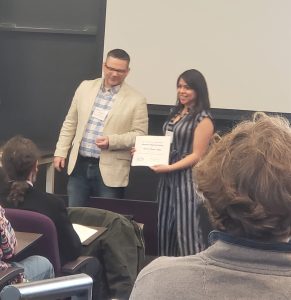 Jaquelin Aroujo receiving the ACS-CVS Award.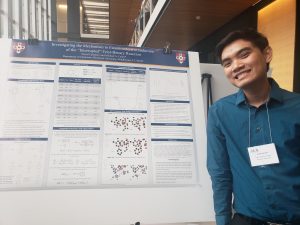 David Cabanero with his winning poster.