Associate Professor Erika Taylor has been named one of the "Top 35 Women in Higher Education" by Diverse magazine.  This honor recognizes women who have made significant contributions to the cause of diversity in higher education and beyond.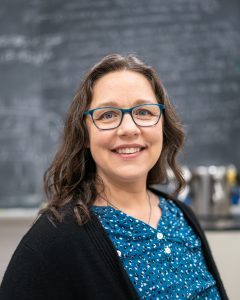 "Taylor, associate professor of chemistry, environmental studies and integrative sciences, joined the Wesleyan faculty in 2007. She holds a bachelor's degree in chemistry with honors from the University of Michigan at Ann Arbor, a Ph.D. in chemistry from the University of Illinois at Urbana- Champaign and was a postdoctoral research associate at Albert Einstein College of Medicine. Throughout her career, Taylor has worked at the interface of chemistry and biology. She strives to find ways to exploit enzymes found in nature to perform reactions that can help advance the fields of chemistry and medicine. Her research group has included over 75 students to date, spanning high schoolers to Ph.D. students, with women and other underrepresented students comprising more than three-quarters of her lab members. In addition to her research, she has been a passionate advocate for diversity, lending time and energy to provide opportunities in science for female, minority and low-income students. Taylor was awarded the Binswanger Prize for Excellence in Teaching for her passion and dedication to supporting the academic and personal development of all of her students. Her track record of mentoring diverse students culminated in being named Wesleyan University's McNair Program faculty director in 2018. Beyond Wesleyan, she founded and continues to run a Girls in Science camp for elementary through middle school aged girls, which highlights the diversity of women that exists in science and raises funds to enable nearly half of the students to participate tuition free."
See the full story at http://newsletter.blogs.wesleyan.edu/2020/04/05/taylor-named-a-top-35-women-in-higher-education-by-diverse/ and the full list of this years' honorees at https://diverseeducation.com/2020-Top-35-Women-in-Higher-Education/#/ .